Is Bale moving to France, Spain or even staying in England?
Edit
By Liam the Football Lover, Lead Bureaucrat at 15:25, 26/08/13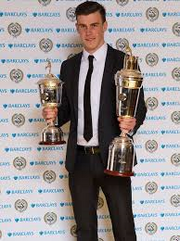 Gareth Bale, after almost completing a world-record £86m to Real Madrid has been put on hold. The 23 year-old flew back from Spain today, after ongoing talks with Real Madrid. Leaks this morning have claimed that Tottenham have recived another formal bid for Bale. 
Amazingly, Bale has no team trophies with Tottenham and Southampton, and reports say he wants to win trophies for teams. He was dissapointed with the slowness of the talks yesterday in Madrid, and now he has put the talks on hold to start considering his options.
Liam's View
Edit
I think that this is with no doubt the most exciting rumor of the transfer window, but yet again, I do support WBA. Regardless, this player is an outstanding player and should have more intrest from other clubs, but a bid war for Bale would be way too intense, and I think that if he signs, but isn't comtable, you woud never get £86m out of a club like Daniel Levy does. Not the smartest move from Real to bid £86m for Bale.